Turn Your Words Into Profit – Copywriting Tips That Work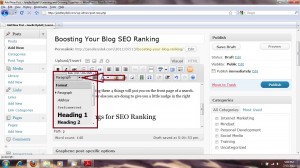 If you are looking for ways to promote your affiliate product, these simple tips can do the trick. They are the basic building blocks to help you promote better online.
1) Give People the Information They Want
Focus on what people want when they browse on internet: Information. People are always looking for helpful information about products and services when they browse online. They want easy-to-read and easy-to-fix solutions so give them what they are looking for. Remember to write for the reader with this in mind: W.I.I.I.F.M. (What Is In It for Me?)
Use short, simple phrases.
Use bullets to illustrate key points.
Use large print to catch attention.
Use graphics of your product to create visual impact.
2) Developing your Body Paragrahs
Marketing experts say an efficient affiliate product promotion should not exceed 15 words. That is right, 15 words for each paragraph. Remember that an average person spends less than 5 seconds on a page and they do not "read", they "scan" for information. With this in mind, you need to help decide quickly if they have found what they are looking for.
To do that:
Use proof about what you claim because readers believe Proof = information. Display photos of your products, or use testimonials of people who have used your product. Make your message credible.
Do not overuse exclamation marks when making your claims. The fewer the better. Exclamations marks indicate that you are stressing a point about your product. To readers it feels as though you are "pushing" something on them.
Use verbs that call for people to take action. It is better to invite people to take action. Action verbs help readers decide, giving them the option of choice.
3) Close Paragrahs – Leave an Impression
It's time for people to decide if they like your product or not. help them make the right decision. Why not offer something for free? To convince readers, help them decide that your product is good by offering them something for free. In this way they can learn more about your product, plus you get to create your opt-in page. Remember to gently nudge at this stage and not push.
These rules about writing effective copy writing guide the customer through the mental process of:
Headline: This sounds like a product I could use
Body Paragraph: This looks like product I could use.
Close: This IS the product I have been looking for.
These are just a few tips about writing about an affiliate product that you may wish to use to improve your copy writing skills. They have proven to be effective thanks to the efforts of copy writing professionals who have developed them over many years.