Direct Marketing Copywriting – Tips to Explode Your Sales Today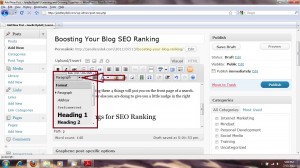 We all know that copywriting is extremely important, but there is a specialized style of writing, called direct marketing copywriting, that is especially effective. If you have not worked to develop your direct marketing copywriting skills, then you need to take just a few moments to read this article. You will soon learn how you can start writing better copy that produces more sales than you ever thought possible.
Direct marketing copywriting involves a few things. One of its most important aspects is that it speaks to a specific market. The general term 'copywriting' just refers to writing words that are attempting to make a sale to anybody. But if you are speaking directly to a market that you have knowledge about, you can say so much more. For example, if you were trying to sell golf shoes, would you make more sales by writing copy that is targeted at anyone (golf players and non-golf players alike)? Or do you think that you would be able to make more money by speaking directly to those who are avid golf players? Of course you would make more money writing copy specifically for golf players.
This is something that most people just don't understand when they sit down to write out a sales page. They need to speak directly to their target audience, directly to the market – hence, direct marketing copywriting.
How Do You Speak Directly To Your Market?That's simple – you get inside of their heads. You need to think like a potential customer. You don't want to write your sales pages so it sounds good to just anyone. You want to write out your sales page so it sounds good to your market. What problems do your potential customers have? What are their likes? What are their dislikes? What have they tried to solve their problems? What works? What doesn't work?
You should know the answer to all of these questions before you begin writing out your sales letters. Why? Because this knowledge will allow you to speak directly to your market! You can say things like, "If you are like I used to be, you've probably tired solution A and solution B, but found that the problem only got worse." Or you could say something like, "I know that I didn't want to try solution C because I don't like to…" See what I'm doing here? I'm using the answers to the questions above to write out something that speaks to my readers.
You can't just say "I know that you've tried everything! Now try this!" because that isn't specific enough for anyone to connect to. No matter what you think, no one has ever tried every solution to a problem. You need to get specific, so people will read you direct marketing copywriting and say "Yes! I HAVE tried that and it didn't work for me either!" Now they're listening – believe me.